Student run. Community centered.
Located on the northern edge of Bard's 1,000-acre Hudson Valley campus, the 1.25-acre farm provides sustainably grown produce to the campus community through our dining service provider and a seasonal farm stand. Our farm is a working demonstration of Bard's commitment to sustainability and climate solutions. Guided by the National Organic Standards and moving toward a no-till management strategy, we strive to use practices that improve soil health, sequester more carbon, and build climate resilience.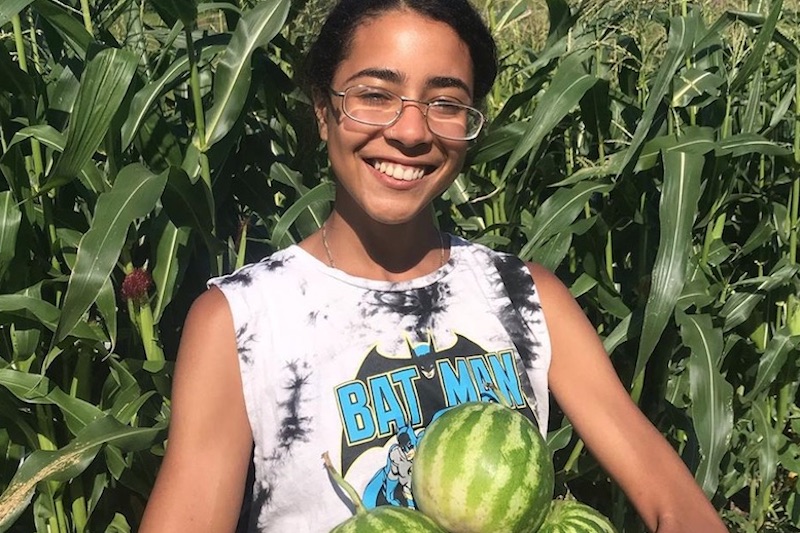 Who We Are
Bard Farm aims to create an inclusive environment that connects students to our local foodshed, food culture, and the understanding that farming, and eating what we grow, is an agricultural, ecological, and social act, inextricably rooted within the land, our history, and our community. We are a small part of a long and rich agrarian history in the Hudson Valley that predates European contact and continues to help define the region and local food culture today. It is with gratitude and humility that we acknowledge the Muhheaconneok people, known today as the Stockbridge-Munsee Mohican Nation, whose sacred homelands we farm.
Find our farm-fresh organic produce here.
Bard Farm produces more than 20,000 lbs. of produce every year, much of which is served on campus.
Community Engagement
Bard Farm provides the campus community with opportunities for academic investigation, research, and engagement, connecting students not only to local, sustainable foods and production practices but also to complex issues surrounding historic and contemporary food culture, equity, access, and social justice as they pertain to our food system.
Bard Farm News
Elizabeth Royte '81: Food Waste—and Food Insecurity—Rising amid Coronavirus Panic
With panic buying at grocery stores, restaurant closures, and rising unemployment, food waste and food insecurity are on the rise. Bard alumna Elizabeth Royte reports on what can be done about it.
More >
Bard's April EcoChallenge: Global Change on a Human Scale
The Center for Civic Engagement, Bard Office of Sustainability, and Bard Farm are leading a 30-day challenge to the Bard community: commit in the month of April to daily actions for environmental and social good. Join today! Together, we can have a big impact. The team name is Bard College Network, Friends and Family.
More >
Bard Farm Events
There are no events to display.